Off-The-Grid Power
Pre-Wired And Easy To Install
Install An Independent Power System
With Certainty That
You are Getting The Right Parts
With us, you can get a system engineered specifically for your power needs and site requirements. You'll receive a pre-wired power center, diagrams, instructions, and of ALL the equipment needed to install with confidence because our BOXED solar off-grid systems are complete.
Self Solar Installations
Are Easier Than You Think!
People think that autonomous power systems are challenging to design, install, and operate – and there is some truth to that. Off-the-grid power systems are complex and involve many components.
In response, online providers started offering "kitted systems" that most times do not adapt well to the job requirements. But the price is attractive, and people are buying them.
However, as energy-storage technology is becoming more mainstream and solar panels cheaper, you no longer need specialized knowledge to estimate the solar power required to charge your batteries.
If you understand the basic concepts of how energy is produced, stored, and consumed, then there's no reason to settle for a system that will under-perform.
Everything is working. I thought you might like seeing the solar panels in the winter in NY. We have people living in the Yurt, and they are keeping the panels cleared and the batteries charged. So far he has used the generator about once a week, and only for an hour or so to charge the batteries back up. Thanks a million!
My system is flawlessly working and producing more than enough power for the filter pump. It looks really good (well, I think so) so I will include a couple of photos of it as well. Thanks for your kind help, it is always appreciated.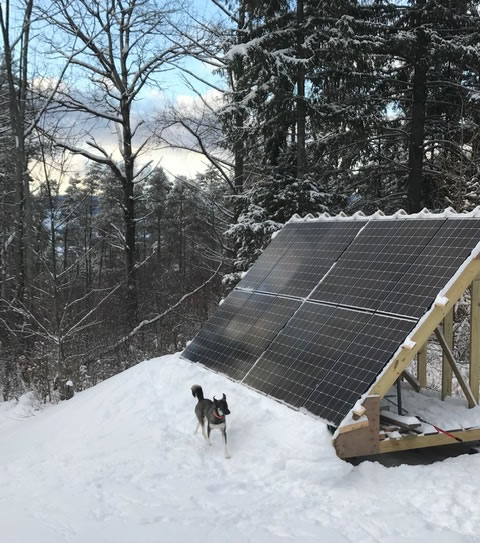 A System To Fit Your
Job Requirements, Climate,
and Power Needs
Since 2011, we've helped countless customers bring power to places where the utility grid is inaccessible.
Why have we been successful? Because we make the entire process quick and easy-to-understand for YOU:
Just fill out the intake form and tell us about your project.
Schedule a discovery call with one of our expert technicians to review the available options.
Receive your system proposal, suited to your exact specifications. And if something needs to be changed, we'll revise it based on your feedback and create a new one.
We process your order and ship the BOXED solar system to your site!
Bringing Power To Remote Locations
Has Never Been
Easier Or More Accessible!
Get power where you need it,
we make it straightforward for you.
Need extra guidance regarding installation/equipment/power requirements/ANYTHING?
Our team of qualified technicians is here to guide you any day of the week. Though most people find the product instructions simple and straightforward, we know every situation is different. So we're here to help! You'll also get manufacturer instructions as well as installation videos when available.
How much support can I expect?
We pride ourselves on our responsive and professional support. Before and after your BOXED package arrives at your site, we're here to answer any question you have about lead times, delivery, costs, and setup.
What equipment manufacturers do you offer? 
We exclusively work with manufacturers that have a physical presence in the U.S. and can honor warranty claims from a domestic facility. We can discuss which is best for you during our initial discovery call:

Panel manufacturers, we partner with:
– Canadian Solar
– Trina Solar
– Panasonic

Power inverters that we offer:
– Schneider Electric
– Magnum Energy

Racking and mounting systems:
– IronRidge
– DPW
– Tamarack Solar
How can I reach you? 
You'll have a personally assigned customer success representative whom you can contact any time who will be fluent with all of the equipment you're ordering. Call or email whenever it is convenient. Beyond that, our head office is friendly and receptive, and can't wait to hear from you.
Have Any Other Questions?
We'd love to answer them!
Call us at 888-972-6933