Canadian Solar PV Panels
Canadian Solar was founded in 2001 in Canada and is one of the world's largest and foremost solar power companies. It is a leading manufacturer of solar photovoltaic modules and provider of solar energy solutions. Over the past 18 years, they have successfully delivered over 32 GW of premium quality modules to customers in over 150 countries around the world. Canadian Solar Inc. has been publicly listed on NASDAQ since 2006.
It was founded in 2001 in Canada by Dr. Shawn Qu. Today Canadian Solar has business subsidiaries in over 24 countries. Canadian Solar employs nearly 9,000 workers worldwide and has facilities in Ontario, China, Indonesia, Vietnam and Brazil. The bulk of Canadian Solar's production comes from Canada and China. The Ontario plant has a production capacity of over 500 MW per year. Canadian Solar is vertically integrated and structured for the manufacturing of ingots, wafers, solar cells and solar PV modules.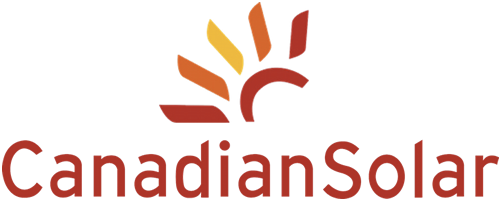 Datasheets
High Density Mono PERC solar panels offering better shading tolerance and maximizing the light absorption area. With lower internal current, lower hot spot temperature, reduced cell crack risk, they reach module efficiency up to 20.46 %.
Installation & User Manual
The installation manual provides important safety information relating to the installation, maintenance and handling of Canadian Solar CS-series solar modules.
Warranty & UL Certificate
Canadian Solar warrants that for a period of twenty-five years HiDM modules will maintain a level of performance during the first year the actual power output will be no less than 97.5% of the labeled power output and by the end of year 25, the actual power output will be no less than 83.1% of the labeled power output. Canadian Solar panels are eligible to bear the CSA for the US.